We know of Adolf Hitler as an idiosyncratic dictator who took upon himself the task of 'biological cleansing' by eradicating the Jewish from the whole of world. Courtesy his inhuman antics, Adolf Hitler thru the years has managed to wear the tag of 'Mass Murderer' and now the advertisers are turning the heat on by using Hitler's holocaust into a controversial advertisement that has taken the world of advertisement by storm.
Germany based Das Committee, an ad agency, has recently rolled out an ad film that depicts a man and woman intimately making love, until in the end it is revealed that the man in motion is none else but Hitler. The tagline then plays: 'AIDS is a mass murderer.' There also have been graphical depictions of the same, with Stalin and Saddam Hussein (the other two infamous dictators from modern world history) to give company to the fuehrer.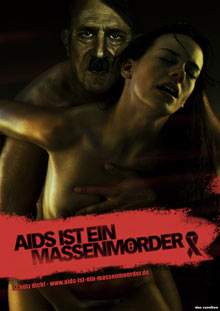 The agency has come up with the campaign to address the serious issue of AIDS and plan to run the campaign till the World AIDS Day that falls on December 1.
The ad campaign has stirred enough controversy globally to be pulled down from YouTube results (I watched the ad here). Some critics have condemned the usage of dictators in advertisements, whilst the ad makers defend that the atrocities of Hitler are same as AIDS, and want to focus on the magnanimity of loss of lives that AIDS can inflict upon the human race!
My take:
a) Let the advertisement not be banned on YouTube and other online channels until the government(s) disapproves of it
b) Ad makers need a creative license to make imposing and stirring campaigns
c) We have had enough of plain vanilla ads that have voiced the illness that AIDS is. If this clutter-breaking ad is able to do its job, it may save some innocent human lives
d) If Germans can create an ad that mocks their own leader, then the rest of the world should have little problem!
e) Lastly, I (and everyone else) love controversial ads!