The ultimate goal of content marketing is to establish a relationship with the customers by making conversations. It can be in the form of articles or video content or live streaming of contents or product performance. In order to provide an engaging interaction, it is a prerequisite to understanding all the etiquettes of content marketing and here are 5 simple steps on how to get introduced to content marketing.
Guidelines
Understanding the field
Content marketing is a powerful tool which when used properly, you will able to convince and convert the target audience into loyal customers. It is a part of your business marketing strategy involving digital media. The process involves managing and execution of various digital media content either as a written piece or as visual content. The base of the marketing strategy revolves around your target audience and what they seek. In order to be able to provide to the customers, your content should be unique and should be presented in different formats published on different platforms.
It is one of the cost-effective ways for gaining more web traffic and attention to what you are willing to sell. People always seek informative content to solve their problems. By providing such information you can generate loyal traffic every time you post content you post. Meanwhile, by embedding a link to some other product or another article you can direct interested audience into buying what you are willing to sell. In this way, it will proveto be a useful tacticin generating revenue and spreadingbrand awareness. Consider it to be capital-less investment.
Come up with a management system and content ideas
Coming up with vague content ideas and write-ups are not enough to perform a successful marketing campaign. This is a very crucial step which constructs the base for your content operation and gaining traffic. The content management system processes the content for evaluation right from its creation, publication, and analysis of the reviews and updates with the current market trend as per the perspective.
Brainstorm different ideas for your content and recycle these ideas every now then as this can seriously aid your management system.
Some of the most frequently resorted content management systems are HubSpot software and WordPress. With these managerial tools in place, brainstorming of ideas can be done for the further creation of content.
HubSpot offers a website grader and a topic generator to help you assess your position in the area and advance further. It grades the vital components of your marketing and makes your website SEO friendly to keep you updated. The generator asks you quick questions that can trigger the brainstorming process and thereby come up with new topics for your contents.
Know what suits your style of business
There are a lot of ways to present your ideas and content to the readers. The more engaging the content is,more is the attraction that it brings with it. Some of the most common methods are blog writing, templates, downloadable contents like ebooks, videos and graphics, live streaming on a social media platform and podcasts. Extending the coverage of your content is a very critical task that needs to be done.
Publishing the same content on sister platforms or sharing links on other websites apart from your own are few ways to do it.
Introducing your content into a social media platform like LinkedIn and Facebook in a freshly cooked format can have a huge impact in the advertising area. This is also bringing an added benefit to the table as it spreads the brand awareness to a lot more people than when used on your own website.
The ultimate goal is to determine which type of content can have a welcoming effect on the audience so that you do not waste time on other topics. A good way to do this is to conduct surveys for determining the likes and dislikes of the customers or by interviewing influential leaders. You never know how much information you can gain by just talking to people. This can give an idea to structure your content marketing strategy for a very long term.
Establish a medium for communication
Communication is essential to the success of any business. This applies hugely to content marketing and the best way to do this is start a blog. Blogs enable you to post contents in a regular manner and can be easily made available to everyone. It can be created under the same domain as your website or in a separate platform. Both ways pack a unique set of benefits along with them. Creating a blog can be done within a span of 10 seconds using tools like WordPress.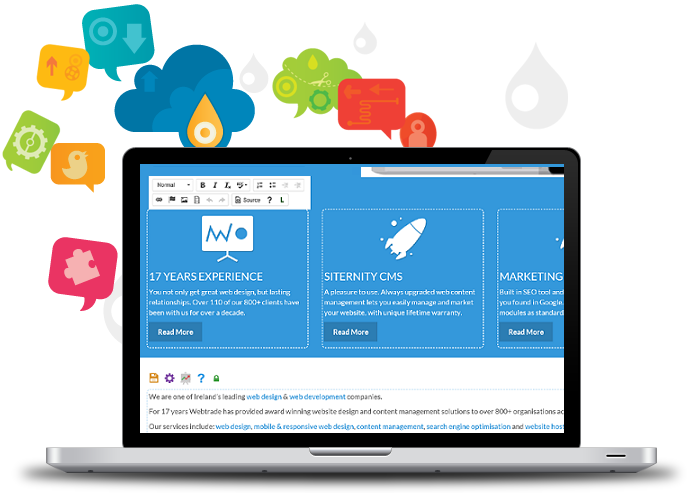 WordPress is the cheapest and most advantageous content management system and it costs almost nothing for creating a blog with WordPress. A uniquely customized theme for the interface and redesigning it to suit the content has served as a really good attraction. By providing the link to your blog on the main website, you can easily redirect the crowd heading towards your platform and hence end up increasing the web traffic.
Contents have to be posted frequently to keep the readers engaged and intrigued. Usually, it is advised to post contents at least once in a week. Regular display of content ensures the authority over the interest of the readers and you can manipulate your content according to the response you get from them. Hence people are now made aware of your online presence and are kept intrigued about the contents in the future.
Form a well-defined managerial plan and set short-term & long-term goals
You should plan well ahead of your scheduled release of contents for their publishing, organizing, and management. This is the final step of the guide and it is the most vital one as it keeps together whatever you have built already and enables you to find room for what you have planned for the future.
Firstly set up a calendar for your editorial content to help you plan a schedule for your versatile library of information. This step should also be applied to manage contents on your social media profiles in order to stir up the promotional activities every now and then. People's interests change like seasons and hence you should able to figure out the pattern and create contents accordingly.
Consider the holidays and other festivals or events that can trigger excitement and use them to your advantage. Also, there are few topics which are evergreen. These topics can be included to fill the gaps found or made in your schedule due to unavoidable circumstances. This is the reason why a solid plan is required as it can help you bend your path against any obstacle.
Creativity and ability to find the unspoken demands of people form the core of content marketing. Follow a back to back strategy for all of your terms with making all the necessary upgrades to make up for the ever-changing market trend. Explore and exploit all available resources to meet your goals for the time. Setting up goals can help you mobilize confidence and the will to come up with new ideas every time and execute it with efficiency.